Herefordshire Council Parking Review New Charges Agreed.
Herefordshire residents, visitors and shoppers will see changes to parking tariffs and to the way they pay for parking after the adoption of the council's parking review.
The changes will take effect on 1 February next year and will see the implementation of contactless payment facilities and changes to charges which balance increases with discounts aimed at supporting the local economy and tackling congestion.
Councillor Paul Rone, cabinet member for transport and roads said:

"The changes that have been agreed are aimed at maintaining economic prosperity, changing travel behaviours and reducing congestion during the morning commute.

We have worked with stakeholders including Town Councils, Halo, Hereford Business Improvement District (HBID) and others to devise a parking offer which takes into account the needs of everyone using the county's parking facilities.

It has been a balancing act ensuring that parking facilities continue to provide value for money as well as encouraging people to think about using sustainable travel modes; we have also looked at ways to implement payment technologies that make our car parks easier to use.

It is necessary for some parking charges to increase. The revenue generated from parking charges is essential to enable us to continue to fund vital transport services that the council delivers.

This review has listened to the views of business and communities and has sought to deliver a balanced set of changes to meet the parking needs of Hereford City and Market Towns."
In Hereford, charges will increase at many car parks including at Merton Meadow from £3 all day to £5, and at Bath Street, Bus Station, Garrick multi-storey, Greyfriars, Union Walk, Venns Close and Wye Street from £4.70 for over four hours to £6.
I recently visited Eastbourne where they have a very busy town centre and promenade. I was pleasantly surprised to see parking meters with simple charges - 2 Hours only 20p - 4 Hours £1.20 - 6 Hours £1.50 - 6-10 Hours £4.
I took this photograph of one of the parking meters, which shows all of the very reasonable prices.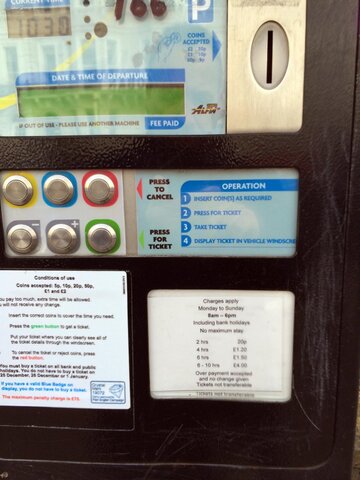 Herefordshire Council could adopt a small fee for people who just need to go into the city centre for no more than 2 hours. Not everyone needs to park all day!