The Hereford Food Festival is BACK!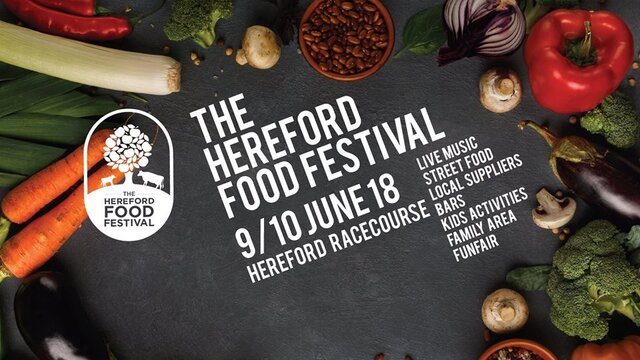 After welcoming over 7,000 of you last tear we are thrilled to be bringing the finest Food, Drink and Local Music back to Hereford Racecourse! 

9th and 10th June 2018 
Saturday - 10am - 7.30pm 
Sunday - 11am - 6pm

- Showcasing the finest Local and National Food and Drink on your doorstep with 60 external vendors serving everything from Italian to Cream Teas - and everything in between. 

- One of the only Food Festivals in the UK that focusses on Street Food. Trying local cuisine on the day while suppliers live cook. 

- An external Farmers Market, with produce you can purchase and take home on the day - or eat on site! 

- A Community Area. West Mercia Police (including police car for the little ones to see!) , Local Dance Schools Nicola's School of Dance, Dolloway Dancers and School Choirs. 

- "Walk Around" Demos all day at scheduled vendor gazebos! Walk your way around the demos and dip in and out when you wish! Timetable to follow.  

- Live Music throughout the day with Acoustic Sets, as well as The Main Stage which is open all day - showcasing Top Talent from Hereford and beyond. 

- Kids Vilage with FREE entertainment all day from Endless Entertainment Events Ltd Fairground rides from Danters Fun Fair and Face Painting from Looby Lou Parties. FREE Crafts from The Creation Station Hereford Herefordshire as well as a chance to book your children into paid sessions. 

- GIft Hall - NEW FOR 2018 - Inside Hall for Gift and Craft Vendors. 

TICKETS AVAILABLE TO PURCHASE ONLINE FROM MONDAY 9TH APRIL 2018 from - www.TheHerefordFoodFestival.co.uk or available to purchase on the door. 

Adults 11+ - £7 each 
Children (5-11) - £4
Under 5s - FREE. 

Parking - FREE - Charity Donations if you would like to. Charity Selection TBC in the next few weeks. 

We have a very limited amound of vendor spaces left - to apply email - enquiries@bigbullevents.co.uk or message our Facebook Page directly. We are FULL for bars. 

www.TheHerefordFoodFestival.co.uk

Email - enquiries@bigbullevents.co.uk to apply for a vendor space.
User Feedback