This is a letter that I have sent to to our councillor today in the hope that I receive a response. I am sure that is also an issue in other areas, but when you are not even trying to join the que and waiting excessively, something needs to be done. As for the road surface saga - well its just a joke considering it's a "new" development! I've driven on smoother farm tracks.

I am writing to you in the hope that you may be able to help resolve some issues we are having on Woodward Avenue (formally Broxash Drive)

Every weekday morning we have problems with traffic using the street as a rat run on to Belmont Road which is causing queues of traffic on our street and problems for residents not being able to manoeuvre vehicles on or off driveways. This morning the traffic was particularly bad on the street and vehicles were queuing up as far as the top of the road next to the children's playground and blocking every driveway. I came out of the house this morning with my 5 year old to take her to school in Madley and despite all the traffic seeing me getting in my car, not one car left me any room for me to pull off my driveway. When the traffic started moving I slowly started to pull of my driveway only for another car to then pull forward, blocking me again, and refusing to move for me to be able to come off my drive, despite me telling them I wanted to go in the opposite direction to them. When I was eventually given space to reverse off the drive I was unable to see down the road to see if anything was coming the other way as the vehicles were obscuring my view, I was lucky that there wasn't a car coming as there would have been no way I would have seen them, or them see me.

There are also problems with drivers speeding down the road, especially towards the earlier part of the morning before the majority of the traffic builds up on the street.

The road itself is an utter mess with major potholes all along the street and the extra traffic using the road is only going to make things worse, we have been told by the highways agency that despite this area being classed as a new development, there are no funds available to resurface this road.

Unfortunately I think at some point in the future if these issues are not addressed there will be an accident on the street, whether due to speeding vehicles, poor condition of the road, or queuing traffic obscuring residents view/access off or on driveways.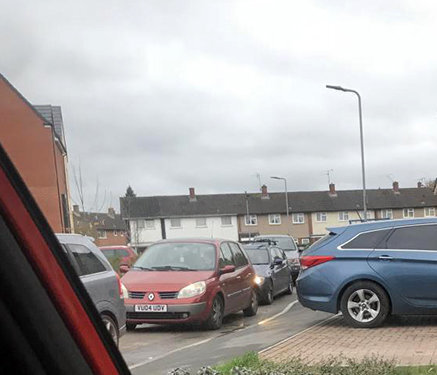 Edited by Colin James, 22 November 2017 .
Rotated images